There's a lot we can learn from a woman like Hannah who possesses a heart in pursuit of God, even as hers was pierced by another person who inflicted harm upon her. Harm when she was already heartbroken.  Have you ever been there? It's not fun. It can feel impossible to deal with. Honestly, it is impossible without God.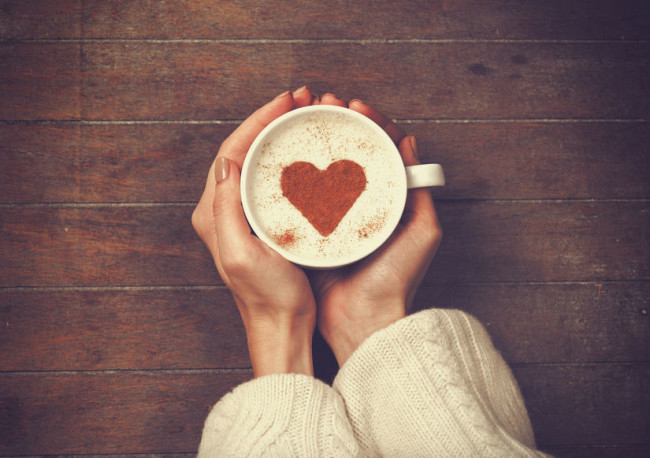 Hannah's name means grace. We all need some of that—to give and to receive. When someone hurts us, it is only in and through God's grace we do not retaliate. God's grace reminds us He is our shield and our refuge through every storm. We can run to Him and seek God's covering gift of protection for us, His precious children.
We need His power. We need His strength and His ever-listening ear— just as Hannah did.
We need God's saving grace which reaches in and rescues, first for eternity and then time and time again while we are here on earth and in need of His help. Not just weekly. Not just yearly. But minute by minute breath by breath.
We were created to be dependent upon God. I need Him every moment of every day. I learn that more and more. I know I need God, but I think I am growing to see how much more I need Him. He's revealing my dependency in a deeper way. Even as I write that, I know I don't comprehend the depth of that truth as I will in the future, as God grows the abiding sense of prayer in me that Paul talks about.
Rejoice always, pray without ceasing, in everything give thanks; for this is the will of God in Christ Jesus for you.—1 Thessalonians 5:16-18 NKJV
Pray in the morning – yes. Pray in the moment – yes.
Morning to morning, moment to moment, pray. In that active conversation with the One who came to save the world, He shows us the way. He showed Hannah, her son Samuel, and so many other examples left for us in Scripture and that we see in our brothers and sisters in Christ who are surrendered to Jesus.
Prayer – not for some pious, pretentious portrayal of whom and what we think a Christian should be. Rather, prayer because we know we would be lost without it and the One who gave it to us as a gift.
Who are we that we get to commune with God?
He calls us worthy, chosen. He created us. He desires to commune with us.
Think about that this Christmas season. God created us. He desires to commune with us.
While we are in the bustle of Christmas, make sure to spend time communing with Christ. Let's not let Christmas become Christmissingus. Let Christmas be a time of communing with Him. When we do, it changes us. He changes us. And that changes everything.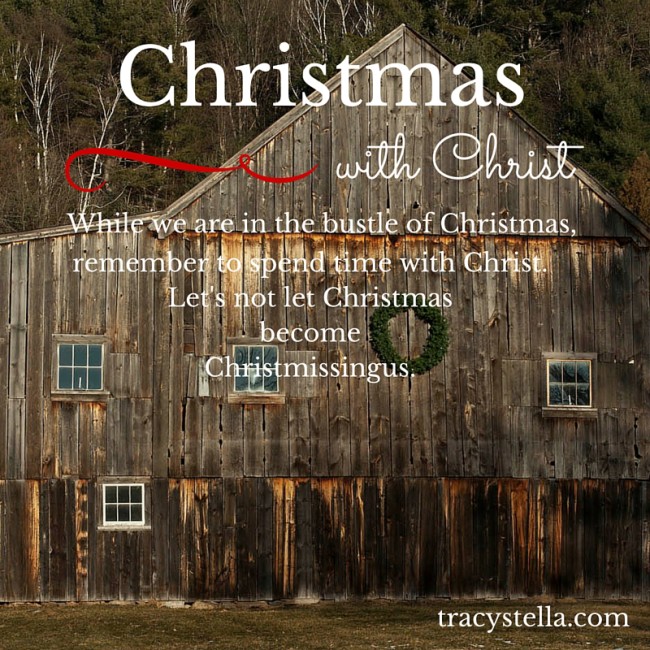 We're family. His chosen children who get to sit upon His lap (whether we've been naughty or nice), listen to His Words and His leading and guiding through the power of the Holy Spirit, and we get to share our heart with Him who knit it together in our mother's womb in the first place.
That is special.
It is sacred.
It is holy.
It should humble us.
We get to cuddle up on our Father's lap, not as He reads us a story, but as He writes ours.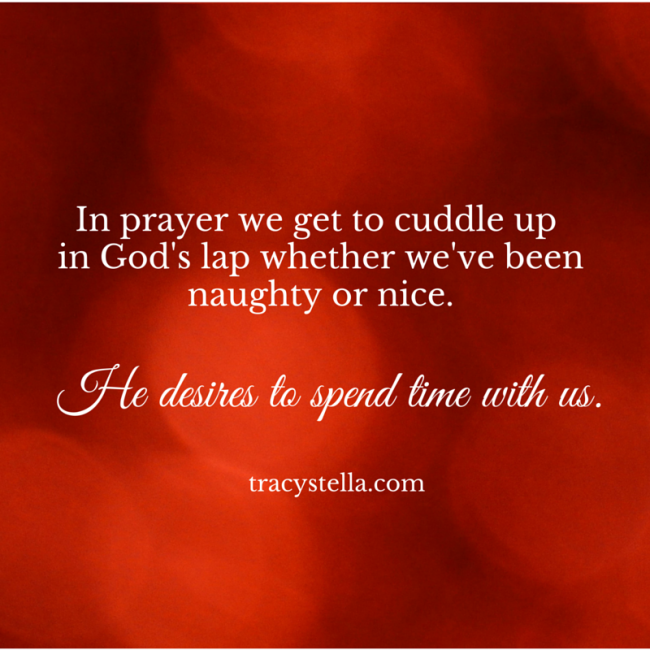 The words "It is written" have jumped off the pages of Scripture at me lately. Our story is written even as God is writing it for us, with us. And if we have said "yes" to Jesus Christ as our Lord and Savior we know our story will end well for all eternity. It is written. We know the way it ends. It is good. It is glorious.
When the enemy tries to discourage us, we can do exactly what Jesus did when the enemy tried to torment Him. We can pray. We can speak God's Word. "It is written" and claim God's promises. (See Luke 4)
Maybe you haven't said "yes" to Jesus yet. Maybe you've been exploring who He is. Make no mistake He loves you. He died on the cross for you so that your sins would be forgiven. What if every mistake you've ever made in your life could be washed clean, forgiven? Forever.
They can.
God's Word says so. Forgiveness is a gift none of us deserves. It's lavish and luxurious, but given in great Love. All we need to do is receive it and surrender to the One who willingly sacrificed much to give it to us. Because God so loved the world that He gave His one and only Son, we can be sure of our eternal destiny (John 3:16). I wish you knew, and I pray you do grow to know, how much God loves you and what He desires for you as He instills hope in your heart at the promise for a beautiful future.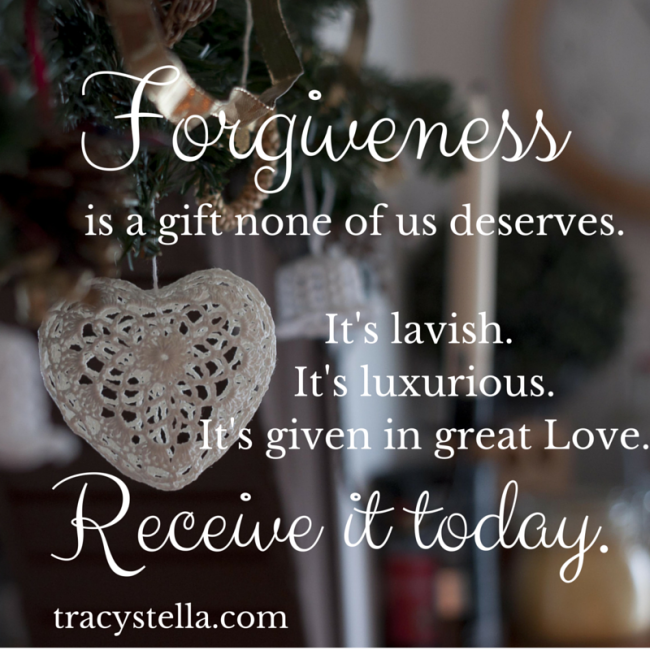 God set the stage for Hannah's son, Samuel. God knew He would give Hannah the gift of a son to be named Samuel, whose name means "God has heard".
God has heard.
God still hears.
Hannah was barren, but she boldly approached God's throne of grace in prayer. God made a way where it appeared there was no way. God heard Hannah's heart in prayer, even when she hadn't spoken a word.
Can you imagine?
There was a moment when Eli the priest saw Hannah praying fervently in the temple without speaking a word. She must have been very stirred up in her spirit, because Eli thought she was drunk. She was speaking from her heart to the Lord without ever making a sound.
And it happened, as she continued praying before the LORD, that Eli watched her mouth. Now Hannah spoke in her heart, only her lips moved, but her voice was not heard. Therefore, Eli thought she was drunk. So Eli said to her, "How long will you be drunk? Put your wine away from you!"

But Hannah answered and said, "No, my lord, I am a woman of sorrowful spirit. I have drunk neither wine nor intoxicating drink, but have poured out my soul before the LORD."—1 Samuel 1:12-15 NKJV
Again, can you imagine?  What would it be like to pour out your soul before the LORD? What if you didn't have to carry your worries and woes and could pour them out to the LORD?
You can.
Prayer allows us to pour out every burden until we are empty of them, so God's love overflows in and from us instead.
How passionate does prayer need to be for someone to think you are intoxicated? I try to picture what this looked like. Was Hannah gesturing, rocking back and forth tearing her clothes in grief like the Israelites did when they were mourning? This is me imagining – not necessarily true – but I somehow think none of that happened. I imagine Hannah more in a stupor, staring into the distance, maybe slightly swaying like a tall building in a city breeze. That can happen when the wind gets knocked out of you. I think sometimes when we are deeply troubled we might be more frozen. And in this case, we know Hannah couldn't find the words. She didn't speak any.
You know what that says to me? The Lord knew Hannah. He knew EXACTLY what was on her heart without her ever saying a word. That gives me great comfort. How about you? I want to run to a God who knows my heart even when I'm too troubled to speak a word.
I need to know the God who knit my heart together in my mother's womb knows exactly what's on it when I don't have the words to tell Him. I've been there. You?  God's been there for me so many times now. I run to Him and melt in His arms like wax on a warm day.
Oh, sometimes the prayers are sweet and thankful and flow like syrup. Other times, tears tumble down my cheeks as I cry out to the God who sees me and knows every trouble I've ever known or will know.  The ability to "talk with God" sometimes is the only thing that gives me the strength to get through the day.
And I consider myself blessed. My life, overall, is pretty good, but I recognize it is good because God is in it. If I walked away from prayer and His presence, I'd make a mess of it for certain.
Like Hannah, I have a loving husband. I am very grateful for him. I know there are others who do not have what I have in marriage. He is a good man sent to me by a gracious and loving Father. I have many other blessings too. But we all have struggles. It's what we do with them and whose strength we rely on that helps us get through. For you, one of your struggles may be marriage and I want to be sensitive to that. I pray God strengthens you and your marriage and helps you to unwrap a beautiful relationship with your spouse (or a future spouse). If you are in a difficult marriage, it does not mean God does not love you. How do I know?
God's Word says He loves each and every one of us. God does not lie.
The apostle Paul talked about the thorn in his side that he desperately wanted removed. It remained. I have a few thorns I wish I could pluck out. You too? What if they remain? God is still gracious and loving.
We are called to have joy in spite of our circumstances. I can't do that without God. With His help, I'm a singing, smiling, genuinely joyful child of God. THAT'S the beauty of prayer. We access God's power to help us rise above every difficult circumstance and celebrate the One who brings victory in our life and in every spiritual battle!
Sometimes life is difficult. Sometimes life is delightful. Always we are to rejoice as we pray without ceasing. And be grateful. These things are God's will and that's right where I want to be.
Rejoice always, pray without ceasing, in everything give thanks; for this is the will of God in Christ Jesus for you.—1 Thessalonians 5:16-18 NKJV
I lift this song up in prayer for my son and the younger generation of my entire family – my nieces, my nephews, and my future grandchildren if that is God's will.  Perhaps you would like to sing Hannah's Song as a prayer for your family too.  (Rachel Aldous blessed me so much with this beautiful song!) I do lift it up as a prayer on behalf of every reader's eyes and the families each one represents.
Our prayers are one of the best gifts we can give during this Christmas season. Prayer is a gift that lasts for all eternity. God hears them and He knows every word etched upon our heart—the ones that are audible and the ones we don't know how to say or pray, but He hears anyhow. Isn't God good?
QUESTIONS & ACTIONS
There is only one way to get to heaven. It's not from doing all sorts of good things. There's not enough good in the world you could do to earn salvation. That should be a relief. It's not up to you. It's about believing in your heart that Jesus is the only way to receive eternal salvation and praying a prayer from your heart.
Jesus said to him, "I am the way, the truth, and the life. No one comes to the Father except through Me.—John 14:6 NKJV
If you have never said "yes" to Jesus, but would like to give your life to Him, pray this prayer. 
Jesus, I surrender my life to you. I believe you are the way, the truth, and the life. I commit my heart to You and ask that You direct my steps. Show me who You are. Give me a love for You, for prayer, and for Your Word. Help me to grow in awareness of Your abundant love for me. Let Your love crash over me. In Jesus' name. Amen!
Consider singing "Hannah's Song" as a prayer for the younger generation in your family.
How is your perspective on prayer impacted when you consider unspoken words a prayer your heavenly Father understands?
How is God asking you to respond to Him in regards to prayer?
If your prayer life has felt more religious than relational, what can change that prayer posture?
Consider reading 1 Samuel Chapter 1 and 2 to learn more about Hannah's prayer posture and how God responds to her.
About the author: Tracy Stella is a Christ-follower on the journey of life, seeking to see God and His will for her fulfilled on this great adventure. She is a Christian Life Coach at Summit Steps Coaching and has a heart for helping God's daughters step into their destiny. She feels compelled to share the story of God's hand in her own life with the hope that readers will search for and see God at work in their own. Jesus writes the greatest story of all. It's called Redemption for those who are willing to surrender to His love and leading.  Her prayer for readers is God continues to write a glorious story in each of your lives. Amen.

If you found this helpful or inspiring (or maybe a little challenging), consider sharing it with others. Thank you for reading and God bless!