Much to my husband's chagrin, I am a lover of virtually everything HGTV. Sam is a good sport, but after watching the fourth Property Brothers episode in a row, his interest wanes. Whereas if you asked me, I would say we were about to get started.  Episode five, six, and seven? Send them my way.
I love that the brothers take homes others would discard and turn them into architectural works of art. They see hidden purpose. They see beauty beyond what most eyes absorb. They see potential even if they have to tear a home down to its studs in order to rebuild it better than before. They infuse character and quality craftsmanship into each restoration project.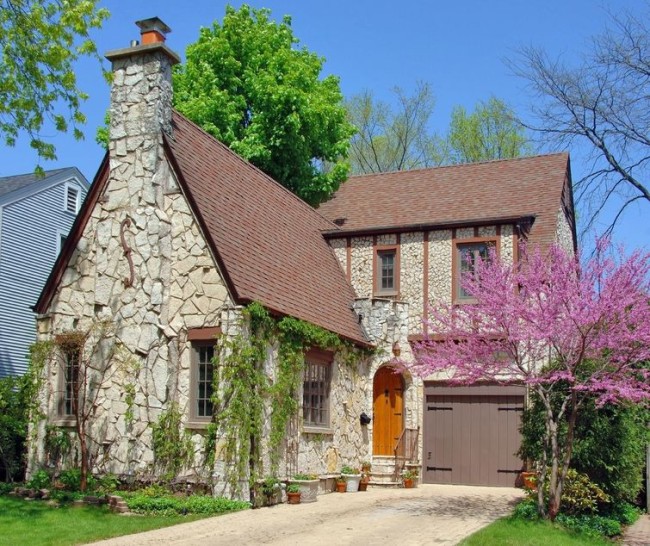 Isn't that what Jesus does with each of us?
He sees our hidden potential – the stuff others don't see in us and, a lot of times, the stuff we don't even see in ourselves. But that's because we don't have the full story. Only God knows what He plans to do in and through us. I imagine Him saying, "Oh, sweetheart, if only you knew what wonderful things I have in store for you. All those gifts and talents I've given? They are going to be used for such good. You don't even know the half of it. Just hold onto your hat!"
If I were talking to you in person, I'd say, "Hang onto your hat, sweet friend! There is much more treasure hidden within you that God desires to use. Let Him!" The breeze of the Holy Spirit gusting in and through our lives reveals His glory. God wants you to be a part of that.
Revealing God's glory is our ultimate purpose. When people see God's love and character in us, they are more likely to be receptive to God Himself. That's the end game.  We worship Him for all He allows us to participate in as we learn and grow to understand our unique contribution. There's a specific reason for your being here, in this time, surrounded by the people in your life, and faced with the blessings and challenges life holds.  The good with the bad, God uses it all.
What does God want you to do in that? His plans are broad and long-ranging, but they are also specific and for this day. What purpose does God want you to fulfill today—even as you continue to learn and grow to understand what He calls you to for tomorrow?
Jesus sees the beauty in us long before others can absorb it. Our transformation might not seem real to others looking from the outside in. Good thing God looks from the inside out. He sees the condition of our heart. He sees the things that have hurt us, but He also sees how He is not going to let us live in that.
Like a house once filled with scraggy shag carpeting long out of style and well worn, now pulled back to reveal durable and beautiful hardwood floors. Strong and with purpose, lots of new life for years to come. God shows the beauty that was beneath the surface in us too. It was there all the while, hidden from plain sight.  Property values once thought far below market value about to dramatically increase, because soon enough others will see it too. Oh, the value was always there … we just couldn't see it beneath the scraggy shag carpet of our sin and struggles.
That's what God wants us to see … and to help others see—the value within. Rest assured, sweet one, there is much value in you. It has been there all along. Would you be teak, pine, oak, or some other wood? I don't know. Dark, light, medium? Don't know that either. What I do know is that you are beautiful. So rip up that scraggy shag carpet and let everyone see what God sees – your beauty.  No more hiding beneath that layer that doesn't even look good anymore. It's outdated. Decades out of style.
What if that means God has to bring everything back to the studs in your life? It might mean that. It might not. I don't know and I don't profess to know what God is doing in your life. What I do know is if He brings your life back to the studs, it's because He has something better for you planned. He is the Master Artisan who restores us.  Better than Property Brothers, God is the Master Designer of our life.  He won't leave us unfinished, in need of repair. Little by little, He brings restoration. He'll finish what He starts.
I thank my God upon every remembrance of you, always in every prayer of mine making request for you with all joy, for your fellowship in the gospel from the first day until now, being confident of this very thing, that He who has begun a good work in you will complete it until the day of Jesus Christ.—Philippians 1:3-6 NKJV (emphasis mine)
God won't stop His restoration project half-way. He promises to finish what He starts.  He's not going to leave you high and dry, walls in need of paint, cabinets yet to be hung, floors to be sanded, stained and sealed. No. He rolls up His sleeves and works along-side you.
The Master Carpenter has a beautiful house to build stone by stone. One placed upon the other. He is the mortar that holds every stone in place.
We are all being remodeled in some way. Every season of life colored with a fresh coat of paint.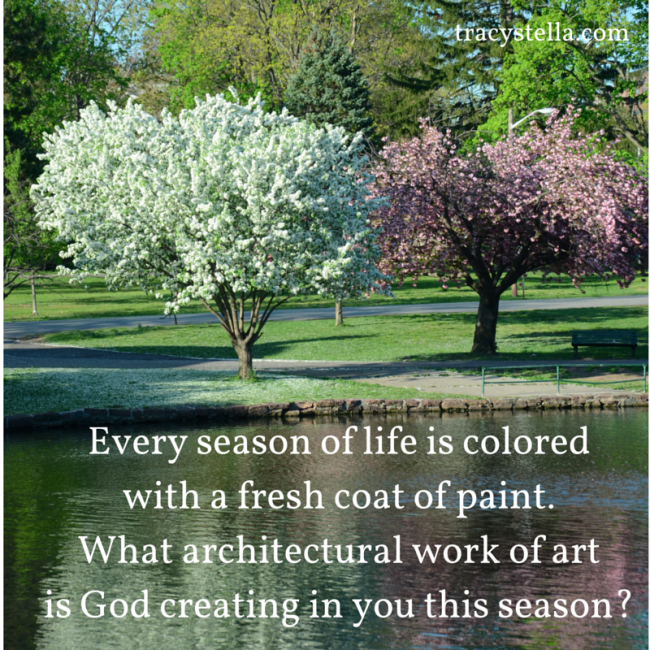 I love architecture in general. I'm not particularly enamored with one style over another. I love Tudor, Victorian, Craftsman, log cabins in the mountains, and beachfront abodes to name a few.  They all have something appealing to offer. Each style is unique and has its own character.  For me it's all about the character a home offers. What hidden charm is there? What quirky this or that might I encounter?
I wonder if that's similar to how God thinks of us.
Oh, there she is my little Victorian in all her elegance. Prim and proper. She makes me so proud! Always ready for tea and talking with others who might need a little of her time. She gives her best and for that she makes me beam.
Or perhaps…
Oh, look over there. See how sturdy and well built My Craftsman is with all her straight angles and hearty hearths to warm Me to the core. She is as dependable as she is beautiful. My artisanship evident in all she has become. I can trust her, so I will give her more.
Or perhaps God says…
My, my, my little log cabin. People find her warmth welcoming and comforting. She is easy to spend time with and her hospitality always shows itself. Many people, eclectic as the squares of the patchwork quilt hanging on her wall enjoy her company … but none more than I do.
Or maybe He says this…
My precious beachfront abode refreshes My saints. So much to be said and shared in her small spaces filled with salt water and the sound of waves rolling into the sand. In her presence, people find peace.  She's found a way to reflect Mine. It delights Me to see people so at home with her, even if they have a little sand on their feet. No matter, she'll sweep it up later. More important things at hand, like the people next to her. Another lesson learned well from Me.
Or maybe He sees this in you…
My Tudor charms with a fusion of beautiful materials I have used to build her life. She is unique and eclectic, even as she has order and balance. She's a blend of all types of styles and textures, because I designed her to relate to many types of people. She doesn't fit into a mold and that makes her delightfully different. People are drawn to her features, because they see a little of themselves in her even as they see opportunity to expand their horizons and embrace new things. Thanks for inspiring My children. They need it!
What type of home has God made you to be?
As much as I love that the Property Brothers take homes others would discard and turn them into architectural works of art, I love that God does that for us! He doesn't cast us aside. He sees our hidden purpose. He sees beauty beyond what most eyes absorb. He sees potential even if He has to tear our house down to the studs to rebuild us better than before. He's infusing character and quality craftsmanship into each one of us. There's a reason for our design. There is reason in our restoration.
What might God want to bring out in your design? Don't turn the channel. Wait for the final episode when you get to see all that God saw in you all along.  The most important aspect in your design project isn't the outcome anyhow. It's Who you are doing it with.
Let the Master Designer transform you into an architectural work of art.
QUESTIONS & ACTIONS
Which home did you most identify with? What about the description resonated with you? (I'd love to hear what home you most identified with.  Feel free to share in the comments or privately if you would like.)
What hidden potential do you have hiding beneath scraggy shag carpet? Ask God to show you what is hiding beneath any outdated carpet. Ask God to restore the beautiful hardwood floors lying beneath.
How is God calling you to let Him transform you into an architectural work of art?
About the author: Tracy Stella is a Christ-follower on the journey of life, seeking to see God and His will for her fulfilled on this great adventure. She is a certified Christian Life Coach at Summit Steps Coaching and has a heart for helping God's daughters step into their destiny. She feels compelled to share the story of God's hand in her own life with the hope that readers will search for and see God at work in their own. Jesus writes the greatest story of all. It's called Redemption for those who are willing to surrender to His love and leading.  Her prayer for readers is God continues to write a glorious story in each of your lives. Amen.

If you found this helpful or inspiring (or maybe a little challenging), consider sharing it with others. Thank you for reading and God bless!