Today's Wednesday's What-Not we review our travel adventures as we clickity clack down the track.  We made it to our final destination:  the N-E-W station, a place where All Things New arrives daily.
We keep moving forward, opening new doors, and doing new things, because we're curious and curiosity keeps leading us down new paths.—Walt Disney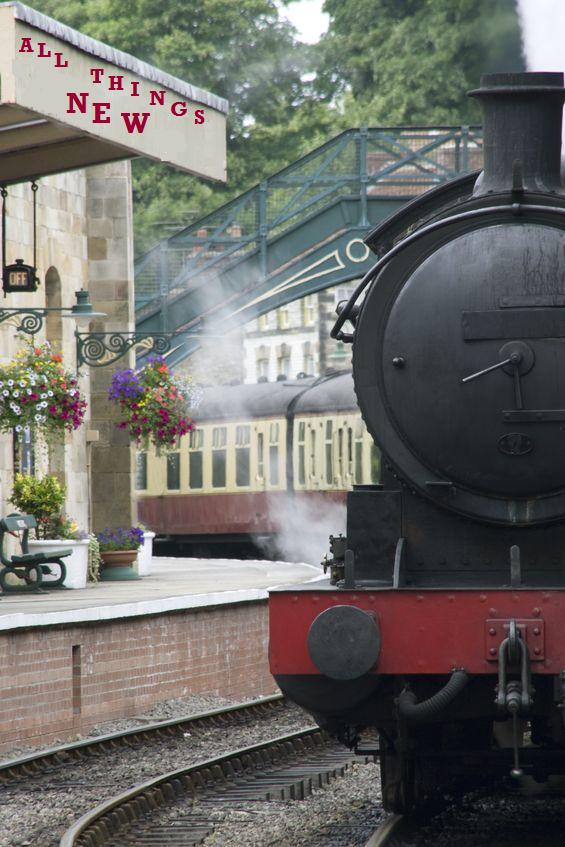 Like a suitcase, let's unpack the highlights from our full-steam-ahead trip to All Things New.
Every experienced traveler knows it pays to explore the possibilities, to take the track less travelled.
Not everyone is willing to lean into all Christ has new for them.  When we are unwilling to embrace All Things New, we miss many adventures.  Take the track less travelled.  New adventures await us.
As we clamor down the track, we learn that Christ ultimately makes All Things New.  Where we are dinged and dented, rusted and rotten, Christ restores.  When we get derailed, He sets us back on the right track.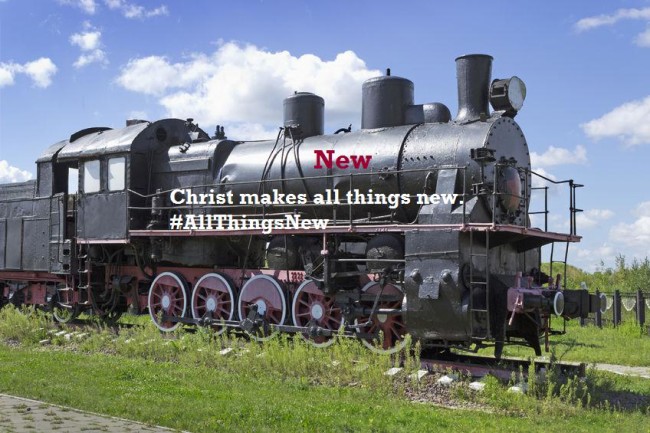 Christ is the engine that drives us forward.  As piston push-pulls, each turn of the wheel signifies we are inching closer to all Christ desires in and for us as He makes All Things New.
And he who was seated on the throne said, "Behold, I am making all things new."  Also he said, "Write this down, for these words are trustworthy and true."—Revelation 21:5 ESV
Over the course of several weeks we looked at various definitions of N-E-W.  The first included Christ's most precious cargo, you and I, as He carried us down the track to His Beacon of Trust.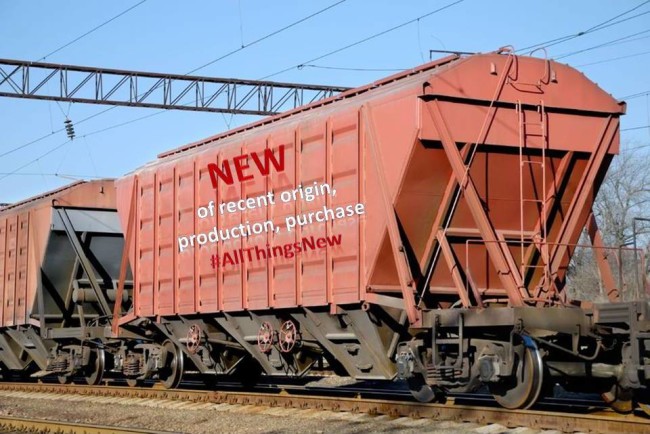 Oh lovely one, you were saved by Christ's purchase.  Once sinner.  Now saint.  Christ followers made new by the price paid through the precious blood of the Lamb.
We learned we can trust God.  Anyone willing to pay the price He paid—His very life—has already earned it.
We then explored our second definition of N-E-W as we peered into our cargo-carrying transit.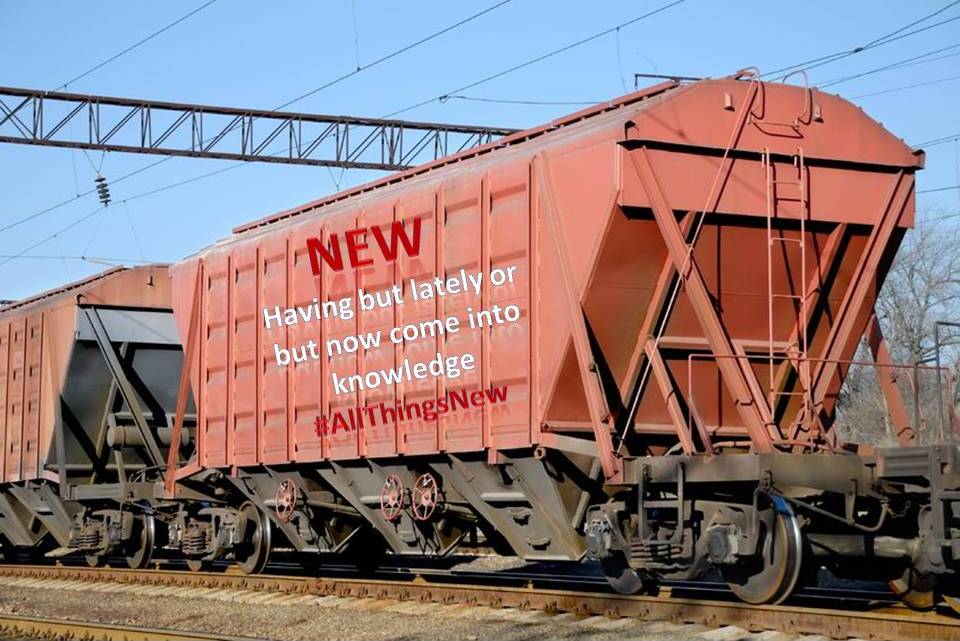 As we learned in Beacon of Trust, sometimes it is not always easy to trust—even when we know we should.
Christ enlightens us in layers.  He reveals Himself— His truth and ours—over time.  He gives information in measures and doses He knows we need and can handle.   Trust and truth set us free.
In you our ancestors put their trust; they trusted and you delivered them.  To you they cried out and were saved; in you they trusted and were not put to shame.—Psalm 22:4-5 NIV
We continued on with our same cargo carrying definition as we took a Sojourn of the Soul.  Trust established, we stepped away from the platform and travelled toward the heart restoration Christ had in store.
A healing journey is part of God's making us new.  There is something broken within each of us which requires restoration.  Wounded portions of our soul point to a need for our Savior.  As we recognize the need, we open ourselves to the healing made possible through the power of Christ.
Then they cried to the LORD in their trouble, and he saved them from distress.  He sent out his word and healed them; he rescued them from the grave.—Psalm 107:19-20 NIV
The next train car travelling down the track had us look at yet another definition of N-E-W.  We considered the definition in light of How To Move Toward Promotion.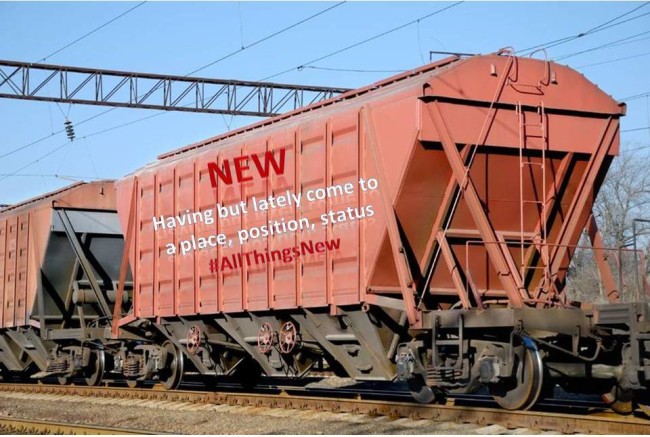 Christ's view of promotion looks dramatically different than our worldly view of position and status.  His Word says, He who is first is last (Matthew 20:16).
The higher we are promoted by Christ, the lower we must level ourselves.
Any amount of increase Christ pours upon us must be met with a greater amount of humility on our part.
Too much of a good thing can turn to pride if we are not careful.  And we all know where pride landed Satan:  in a pit so deep he will never dig his way out.
Any position we have as children of God, comes only as a result of the position Christ placed Himself in when He died on the cross for us.  FOR US.
Seek the LORD, all you humble of the land, you who do what he commands.  Seek righteousness, seek humility.—Zephania 2:3a
We've travelled over half way down the track.  It's about time we stop for a little R&R, railroad style.  In visiting yet another definition of N-E-W, we were Called to Refreshment.
We looked at the desire to be a great harvester for Christ.  If you are one who desires to do much for Him, it is important to understand seasons of planting, harvesting, and rest.
"For six years you are to sow your fields and harvest the crops, but during the seventh year let the land lie plowed and unused.  Then the poor among your people may get food from it, and the wild animals may eat what is left.  Do the same with your vineyard and olive grove.  "Six days do your work, but on the seventh day do not work, so that your ox and your donkey may rest, and so that the slave born in your household and the foreigner living among you may be refreshed.—Exodus 23:10-12 NIV
In order for us to be great harvesters for Christ, we need to rest, refreshed in Him.
When we invest in our rest, God produces dividends on our time.  Investment outcomes improve.  Often, we are able to do much more with less, because we are well rested and ready to carry out our calling.
We must not diminish the significant role rest takes in producing a high return for Christ.
Our cargo carrier was full to overflowing with the exploration of our definition of N-E-W as fresh or unused. 
The definition carried over as we looked from a different vantage point.  We climbed high upon Christ's shoulders as we claimed our calling:  Chosen To Be Blameless.
The Good News of the Gospel says:  if we ask God to lead our life and forgive our sin, He freely forgives us.  We are instantly made blameless as righteous children of Jesus Christ.
In God's love, He predestined—determined ahead of time—we would become His righteous sons and daughters.
Good News we don't deserve, but He predestined.
Let's peer into our last cargo carrier before coming to a complete stop in the station of All Things New.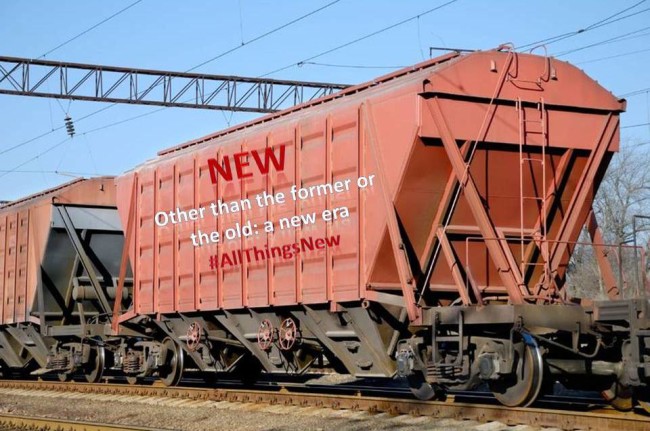 You may have thought our final destination was the All Things New Station.  Ultimately, we have a different station we'll be pulling into … Next Stop New Era.
But in keeping with his promise we are looking forward to a new heaven and a new earth, where righteousness dwells.—2 Peter 3:13 NIV
Not only does the death and resurrection of Jesus Christ make possible our ability to be made new.  One day a new heaven and a new earth will descend.   They will replace the death and decay of our current dwelling here on earth.  One day all whom righteousness dwells within will also dwell within a new city, called New Jerusalem.
There will be a new era we will not want to miss—a New Heaven and a New Earth for us to dwell upon.
There is only one way to enter heaven, Christ's eternal kingdom.  It is simple.  We must accept Jesus Christ into our hearts and let the Holy Spirit lead and guide us toward righteousness.
Yet, there will be people who miss it.  Please don't be one of them.
Grasp the blessing and heed the warning in Jesus' words here.
Behold, I am coming soon!  My reward is with me, and I will give to everyone according to what he has done.  I am the Alpha and the Omega, the First and the Last, the Beginning and the End.  Blessed are those who wash their robes, that they may have the right to the tree of life and may go through the gates into the city.  Outside are the dogs, those who practice magic arts, the sexually immoral, the murderers, the idolaters and everyone who loves and practices falsehood.—Revelation 22:13-15
We are about to pull into the N-E-W station, a place where All Things New arrive daily.  As we round the corner, I leave you with a few final challenges.
Meet new people.
Go new places.
Experience new endeavors.
Try new things.
Embrace Christ for He is the catalyst to every new and good thing He makes possible in your life.
QUESTONS & ACTIONS
Do something new my fellow traveler.  I'd love to hear what great adventure you were led on. Please share! #AllThingsNew